How FAST Will YOUR Home Sell in Today's Market?
If you're thinking about selling your home, but first want to know how fast it will sell, we can help. We are experienced home buyers and sellers with firsthand knowledge of exactly what is happening in this market. Use our free service to get your immediate home valuation and take the guesswork out of selling.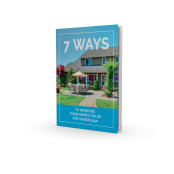 Find out how fast your home will sell in minutes!
To get your FREE home valuation and tips on increasing your home's value for under $150, just enter your information below and we'll do the rest.
We Are A Real Estate Investing Company
Our company buys, sells, and rents homes. We will not be acting as your real estate agent or broker if we buy your house, sell you a house, or rent you a home. We are excited to potentially work with you directly OR if you are represented by an agent or broker. We are focused on improving neighborhoods and redeveloping areas that we work in. If you have additional questions on agencies please contact your local real estate commission.